EVENT PLANNER SPAIN USER GUIDE
Event Planner Spain is since 2006 the leading portal and web directory that allows you to find fast and free providers for the organization of your event in Spain.
Whether you are a professional event organizer or a private individual, you will find everything you are looking for in Event Planner Spain: accommodation, unique spaces, event agencies, decoration companies, etc. in addition to interesting information thanks to our unique news blog in the sector.
 
How to register your business
Advertise on Event Planner Spain is very easy, through our page "Advertise" you will find all the information about our advertising formats and you can register online in just 5 minutes.
For those who are just starting out and do not have a budget, you can choose our FREE profile, at least you will be present in our listings (always positioned at the end of the listings) but you will have a page in our directory that will include your logo, contact address, a photo and a description of your services, as well as a contact form so that users can contact your business directly.
To register for the FREE profile you must create a new account on our "Login" page by entering an email address and password. You will then arrive at your private area "My Work Panel", select "Create company" and fill in all the data (Company details, category under which you want to list your business, etc...).
You will have the option to fill in almost all the fields, but the information will be greyish. This means that this information will not be available in your profile and will not be taken into account when searching for our users. In order to enjoy these fields you will need to upgrade (see how to upgrade) your profile to any of the remaining advertising options we offer (standard, premium or platinum).
Once you have completed all the information that the FREE account allows, you must save the information (at the bottom of the page you will see the save button) and back in your private area "My Work Panel" your company will be registered (it may take about 30 minutes before appearing, subject to "internal validation").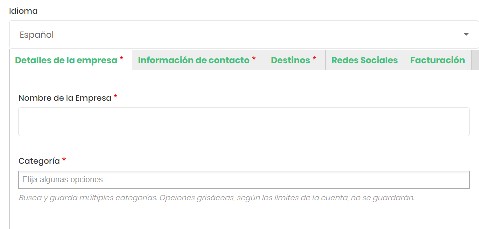 The private area of "My WorkPanel" is divided into four sections:
My account: where you can edit your access data, means of payment, etc.
My companies: in this section you can create more companies (listings / microsites) in case you decide to invest in a Platinum profile (up to 15 cards).
Statistics: in this section you will have access to all the information about the visits received to your microsite, if you have contracted a banner the number of impressions received, etc...
My content: in this section you will be able to publish news/offers from your company (with the limitation according to the profile you have contracted).
My orders: in this section you will find the summary of profiles that you have been contracting with an order number.
How to promote your business on Event Planner Spain
We offer several online marketing options: 
Microsites / company cards that include details about your services, photos, etc (we offer several types of microsites for you to choose the most appropriate to your budget: standard, premium or platinum).
 
Branding through banners and button banners, with link to your website
 
Presence in our newsletter that we send to thousands of suppliers and buyers in the guild of events.

On our page "Advertise" choose the microsite card option that best suits your budget and you can register online in just 5 minutes, using the secure online payment gateway with credit card (Visa or Mastercard). You can receive requests from users from the same moment!
 
How to add a news item
In your private area "My Work Panel", you will find the section "My Content", click on "Publish Content" and fill in all the fields. Add a title for your publication and choose if it is a news item, event, offer...
For news it is not necessary to put "expiration date", it will only be necessary for when you have to publish an offer limited in time.
With our editor you will be able to modify the text as you wish (bold, italic, etc...).
You can also add a photo (always respecting the formats and sizes allowed)
It is not possible to add links or videos, but you can always put detailed url without problem.
How to add other languages in Event Planner Spain
One of the main advantages of our new website is that you can easily add another language, be it a news item, profile or offer.
Translate a news/offer
Once inside "My workspace" when you have selected "Publish content", you will find the "translate" tab at the top of the menu.
When you select "translate" you will find all the language options you can add and right next to each one the "add" button of the language you want to add. Click "add" in the selected language and fill in the fields again. Finally click on the button "save in other languages" and you will have your news or translated offer at your disposal.
Translate a profile/company
In "My work panel" in the section "My Companies", you will find your company listed (or if you have a Platinum profile you will find the list of companies you have created), in the button on the right "Edit" you have a dropdown list, choose the option "translate" and it will take you to the panel with the different languages in which you can add your profile/company. Choose the language you are interested in by clicking on the "add" button, fill in the fields and press "save the translation".
 
How to upgrade your profile
We love this question because it means you want to increase the visibility of your business on Event Planner Spain!
To upgrade you must notify us at info@eventplannerspain.com or by calling +34  618 105 423 and we will give you 2 options:
You can register with a higher profile than you had and we will give you a discount coupon for what you have already paid, so you only have to pay the difference.
You can pay the difference by bank transfer and our team will make the upgrade to the desired profile.
Making a lower profile change is not included in our company policy.
 
How to find information
To search for information on agencies, suppliers, venues for events... use our search engine that you will find on the main page and headers of the rest of the pages.
First select the category for the service you need and then choose one of the subcategories linked to that service and location where the event will take place.
You will find in the results the advertising companies that offer these services and you will be able to contact them directly through the contact form that you will find to the right of each profile. In these profiles, you will also be able to obtain general information about their services, link to the website, contact details, photos, videos and links to their social networks.
Contacting through the green form on the right, our clients will contact you directly offering you a free quote adapted to the needs of your event.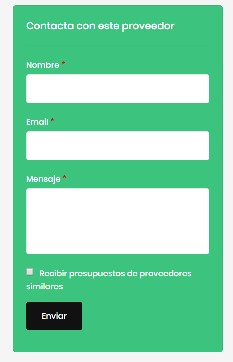 If you want a more personalized treatment from Event Planner Spain, you can also use our section of the main page "Request Events quotes" or our section "Get a quote". We will contact our best suppliers to give you a quote tailored to your needs.
 
Can't find what you're looking for?
Then please don't hesitate to contact us on info@eventplannerspain.com or on +34  618 105 423. We will be happy to help you!