About us
Company Address
Plaza Altamirano 2
Marbella
29601 Marbella Málaga
Spain
There's no such things as " a second chance to make a first impression" so at Restaurant the Farm in Marbella we know exactly how to make sure your corporate events in Marbella impresses your invited guests.
We will look after decorations, table arrangements, offer and excellent and fast service, professional waiters and a high quality of food so you can be assured your delegation is looked after from arrival to departure.
At the Farm Restaurant in Marbella we are used to attending to large groups en we know how exceed expectations.
Enjoy a cocktail on our large patio, dine inside or in our secret garden. Enjoy a wonderful tapas buffet or a seated 3 course dinner. Anything is possible at the Farm.
Our central Marbella Old Town location will also give your guests the chance to admire the Spanish architecture of the old square of Marbella on the way to the restaurant.
Busses can be parked a short distance from the restaurant and we are happy to send one of our waiters to guide your guests through the narrow old town cobbled streets to our venue if needed.
The Farm Marbella is the ideal wedding venue in Marbella Old Town. We cater for weddings from intimate groups of 10 up to large festivities up to 350 invited guests.
Furthermore, we offer a selection of intimate and cozy areas within our restaurant making sure your guests feel special and your event feels personal.
Because of the great layout of our restaurant, you can celebrate your Marbella Wedding on our open terrace, our secret garden patio or in the interior of our cozy restaurant.
Our menus are varied, original and creative. From a tapas buffet to a seated dinner. Whatever you  can dream up, we can serve up!
Enquire about our selection of wedding menus or download our samples here!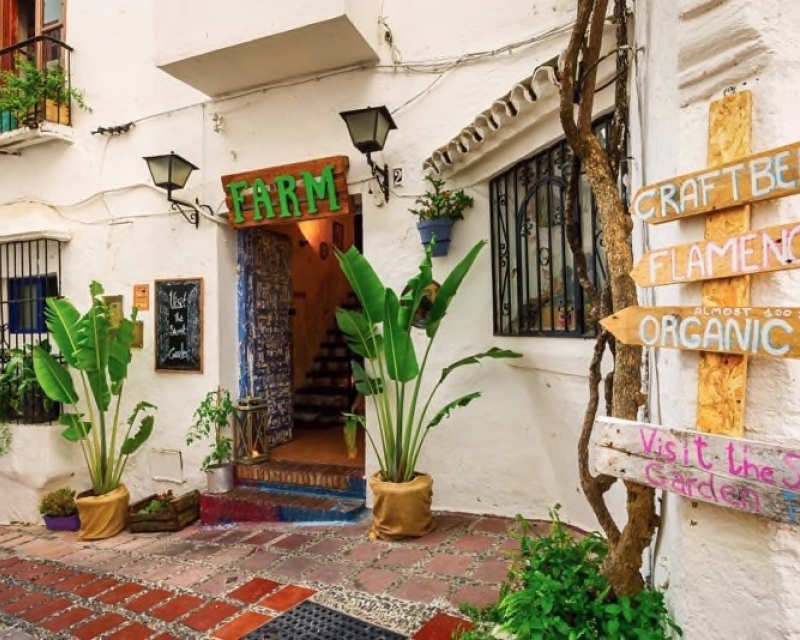 Awards
Our mission is to be a restaurant in Marbella that offers market cuisine and a wine bar to delight our guest with local and fresh food.  We offer a selection of the best spanish wines.
Our values are, slow food, km "0" organic, transparency, creativity with the aim to create a vibrant and warm atmosphere where to enjoy life.
Our restaurant is the ideal location for Weddings in Marbella or to celebrate a corporate event. With both indoor and outdoor seating arrangements, spectacular & affordable menus and friendly service, The Farm restaurant in Marbella is one of the best locations for any celebration!
Our restaurant is located in the old town of Marbella in one of the oldest house dated 1502. At this time the house was owned by the first mayor of the centenary village. It was the only house in the area that had a water supply, therefore the name of the restaurant originally was "El Pozo Viejo" (The Old Well). Today you can still see the original well in our secret garden.
Come in and discover all the secrets of this historic building!